EDITOR'S NOTE: DEUCE TRIED TO CASUALLY JUST LIVE HIS LIFE UNTIL A RABID UNKNOWN MEMBER, AND SELF DESCRIBED DONOR OF DEUCE'S ENTERED THE THREAD, DEMANDING RETRIBUTION, A REFUND, AND ATTENTION. THIS MEMBER, NIGHTWOLVE, HAS SINCE BEEN THE HAPLESS VICTIM OF PIZZA DELIVERIES, PIZZAS HE DID NOT WANT.

begins here

Time to liquidate some old systems, and the DC is the first to go.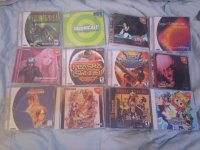 Apologies for the shitty pic, but I have a shitty phone. I can see about providing more detailed closeups for anyone interested.
Fatal Fury: Mark of the Wolves (US) - $80
Twinkle Star Sprites (Japan) - $60
The King of Fighters Dream Match 1999 (US) - $20
The King of Fighters '99 Evolution (Japan, w/spine card) - $20
The King of Fighters 2002 (Japan, w/spine card) - $35
The Last Blade 2 (Japan, w/spine card) - $50
Marvel vs Capcom 2 (Japan, w/spine card) - $25
Tech Romancer (US) - $60
Plasma Sword (US) - $50
Soul Reaver (US) - $20
Bleemcast-Metal Gear Solid - $25
Web Browser 2.0 - $5
All are in mint/like new condition, w/o creases in manuals, cracked cases, or any scratches on the discs. All are barely used.
I ship flat rate priority mail with signature confirmation, which averages about $10 on top of the asking price. Continental US buyers only, please. PM me if interested.
Last edited: