Joined

Dec 1, 2005
Posts

27,684
So I ran some tests on a 1st gen AES, RGB output was rather dim. Did the normal cap and resistor swap which only fixed curling at the top.
After studying the circuit, I decided to alter the voltage divider to try and increase the output of the RGB. I swapped out the 2.2k resistors(confirmed they were still within spec) and replaced them with a higher resistance to increase the voltage output.
I did some calculations comparing to an MV1Cs output and average was 0.853v Vpp, so to make the 1st gen output the same level I swapped out the 2.2k with 2.8k resistors.
RGB is now gorgeous and is the same brightness from a 3-6 board revision.
I'll add some pics later. This should help on the 1st gen and 3-3 revisions.
Edit: Here's the video on my instagram:
https://www.instagram.com/p/BCbNPcppYs6/?taken-by=jamma_nation_x
Here's the before and after, BVM settings are on default for brightness. I used 2.8k, if it's too bright for your liking I suggest using 2.7k. Pic might look overly bright but that's the damn iPhone trying to balance the white level. If you have an MV1C via RGB, it's about that level.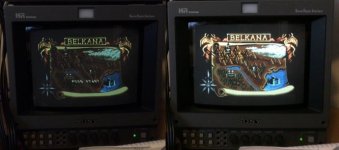 Last edited: