TЗh ЯussiaИs Дre CФm
Joined

Oct 11, 2000
Posts

3,486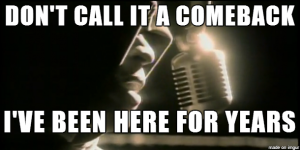 I had to come back for this, didn't I.
Happy Birthday to the most famous white man on the forums with a black avatar! I hope you get a Don Pachi, Do Don Pachi and a fuckton of Pokemon cards.
Jibba, lmk when you wanna come over and we'll FaceTime him together.
Also, on a side note, Happy Belated Birthday to ShawnCarrO. Saw it pop up on Facebook yesterday and tore me up. If you didn't know him, or wanna reminisce, pop over in his thread:
RIP Boog
.
Don't shoot anyone with a shotgun during the weekend man. Please. I need my Christmas present from you first. Seriously tho, hope you have a blast with the trinity of family holidays you're celebrating!
Sincerely,
Mikhail