Hello friends,
It's long time to come here and I would like to sell some collection. All are legits (except Ganryu from !Arcade!) and original, I collect long time and you can trust me

If you are interested, please send PM to me and feel free to ask question. All prices are in Euro and I could be accept Paypal.
Pictures can be request and I can send by e-mail or Whatapp when you send PM to me.
Almost condition is mint or near mint but I will tell more detail in your titles if you want.
I apologize for my not good in English but I will try to do as good as I can.
Thanks for reading. I want you feel happy to collect AES

This is my collection here.
http://www.neo-geo.com/forums/showthread.php?245021-Mahesak-Neo-Geo-Collection-)
Regards,
Saad
Blazing Star (JP) 5200 (Mint)
Ganryu (!ARCADE!) 1200 (Mint)
Garou: Mark of the Wolves (US) 3800 (insert spine has some tear)
Legend of Success Joe (JP) 600 (Mint)
Metal Slug 2 (JP) 3300 (Mint)
Metal Slug 3 (JP) 1750 (Mint)
Metal Slug 5 (JP) 1600 (Mint)
Metal Slug X (JP) 3600 (Mint)
Metal Slug X (US) 4500 (Mint)
Rage of the Dragon (JP) 3000 (Mint)
Samurai Spirits Zero Special (JP/Unfix) 3500 (Mint)
View Point (US) 600 (Mint)
Last Resort (Euro) 500 (some tear at spine)
Burning fight (US) 500 (Mint)
Mutation Nation (Dogtag) 450 (very good)
Sengoku 3 (US) 2500 (Mint)
Neogeo Cup 98 (JP) 1700 (Mint)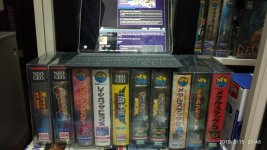 SOLD titles
Samurai Spirits Zero Special (JP/Fixed) 2200 (Mint)
SOLD
Fu'un Super Tag Battle (JP) 2500 (Mint)
SOLD
Ninja Masters (JP) 2000 (Mint)
SOLD
Metal Slug 2 (JP) 3300 (Mint)
SOLD
KOF2002 (JP) 400
SOLD
Breakers (JP) 3000 (Like new)
SOLD
Shock Troopers 2 (JP) 3500 (Mint)
SOLD
Andro Dunos (JP) 1600 (Mint)
SOLD
Metal Slug X (JP) 3500 (Mint)
SOLD
Magical Drop III (JP) 3500 (Mint)
SOLD
Metal Slug 4 (JP) 1000 (Mint)
SOLD
Metal Slug 5 (JP) 1450 (Mint)
SOLD
Andro Nuos (US) 550
SOLD
Realbout Fatal Fury (US) 800
SOLD
Aero Fighters 2 (US) 800
SOLD
Last Blade (US) 2200
SOLD
Metal Slug 2 (US) 6000
SOLD
Pulstar (JP) 4000
SOLD
World Heroes Perfect (US) 2000 (very good condition)
SOLD
Last edited: