Raging Silkworm
15 Year Member
Joined

Oct 9, 2005
Posts

4,362
Welcome to SOTM 02/22 everybody. We're checking out Batsugun Special this month.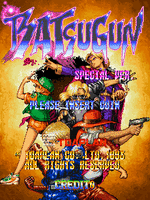 Some mechanics in Batsugun Special are different enough from regular Batsugun that, to me, it's essentially a different game. Additions which constitute Batsugun Special:
- Much smaller hitbox than regular Batsugun
- You can (sometimes?) take two hits before dying
These two seemingly simple changes have a massive impact on the experience. There may be other changes from regular Batsugun, but these are the big ones. I've mentioned it before, but Batsugun Special is the game I recommend to people who want to get into shooting games, but who feel that the genre is too tough.
You can play this game the following ways:
- Saturn (be sure to pick Batsugun Special)
- Mame/ShmupArch (I'm happy to help you get ShmupArch set up on your PC if you need help. It's great)
Apparently prototype PCBs of this game exist, but it sounds like there are just a handful. If you happen to have one, let 'er rip.
Finally, Schneider, the character from Flying Shark was apparently frozen after that game, and is a selectable character in Batsugun: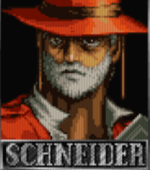 Last edited: