JammaNationX,
15 Year Member
Joined

Dec 1, 2005
Posts

27,727
****JNX Shift now available, special pricing for the 1st batch is $14.99, limited stock****
This is the JNX Shift, an inline button remap for the Neo Geo CD joypad. We all have used one before and majority of us hate the button layout.
With the Shift, you simply just move the jumpers to how you want them to be. Each button has a set of 4 jumpers.
For the shift to work 100%, there is a small modification that needs to be made to the Neo Geo CD joypad. SNK internally connected pins 4 and 9, on some superguns/CMVS units that may cause some issues since pin 9 is used or cause button D to never be mapped correctly.
I'll post pics of the slight mod needed, just requires clipping one wire that is never used by the controller or any Neo system.
The JNX Shift will go on sale in roughly two weeks. Price will be $17.99 plus shipping.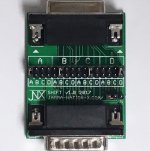 Last edited: