Bare AES Handler
20 Year Member
Joined

Dec 31, 2002
Posts

7,306
don't watch. wtf is wrong with you? just check online for scores.
I'll not watch every match, but I'll watch the odd game especially when things get interesting in the quarter final stages onwards, probably with friends or colleagues in the pub after work.
Yes Qatar are terrible with their human rights records, anti gay, anti women, thousands
of workers killed making the stadiums, it's barbaric I agree. And the current head of Fifa is an arse now calling the West racists for pointing this out.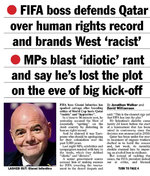 But I don't think me not watching a few games will change anything.