First off, here are some things that will not be revealed.
- The name or location of my source.
- Who currently owns the first copy.
- What the first copy sold for (it was more than Kizuna or Ultimate 11).
- What I am working on right now, which may blow some of you guys away again.
- All of the people I needed to be on board with me, unless they want to be named.
- Who purchases the second copy, unless they want to be known.
So, here's as much of the backstory as I can tell.
I received an email around 4 months ago from an individual who was interested in learning more about the current Neo-Geo scene. His first email was brief and to the point. I responded. And after a few more exchanges, we began chatting on the phone. I learned that this individual was a former employee of SNK.♥
That's when things started to get interesting. He made some outlandish claims that he owned a bunch of (higher end) Neo-Geo games and helped design some chips on the original MVS. He also stated that he worked for another well known game company. I played the part and let him talk. I'll admit, I didn't believe him at first.♥
About a month later, during one of our lengthy conversations one night, we started discussing prototypes and the Master List. He was looking over the Master List as we were talking, telling me about how some of the games were developed and who worked on them. Really interesting stuff.♥
He asked me why Aero Fighters 3 wasn't on the list. I told him that it was, but it was a Japanese only release and that Aero Fighters 3 didn't exist in U.S. form. He said he swore he owned a few of them. I said that was impossible, that it was rumored to exist a long time ago and that Adol stated he had once seen a copy in a French video game store, but no pictures ever came about. I did say that NGF had a version with a home brew insert and CD manual. He said that wasn't the one he had and he specifically remembered ordering a box of them during his time at SNK.
So, I kinda left it alone and we continued to talk games and drama, lol.♥
One day he called me and said he was going to his storage unit - that he was going to prove that he had a copy of the game. I told him to go ahead, I didn't believe him. I also stated that he was thinking of another game. That's when he described what he remembered of the game during his last move to his current location. He said that all of his games were labeled by year in boxes of 96 carts. So I asked for pictures to see if he was telling the truth about owning that many games.
Turns out he wasn't lying about the amount of games he owned. I received pictures of boxes and boxes of home carts. In SNK X5 and X12 boxes. He didn't find it during his first search, but said he knows it was there for sure. This is when I started to get a little excited. I contacted Mikhail Kiselgof and John Thacker. I've known these guys for a long time and trust both of them with my life. They are really good friends of mine. Mikhail was blown away and said he was very interested to see this title. What really surprised me was what John said. I'll never forget him yelling in the phone - "I FUCKING KNEW IT EXISTED!" - that's when I became very excited and less suspicious. John explained that he had placed Aero Fighters 3 U.S. on the Master List in the early days of Neo-Geo.com.♥
John retold me the story of Adol finding a copy in a French video game store and that GamePro had actually reviewed a copy of the game. I asked John if he was interested in helping me authenticate the game if it actually turned out that this guy had one. He was very supportive, he also suggested that Billy Pitt be brought in to assist because of his extensive knowledge of everything Neo-Geo. I trust John, so I agreed. We also decided it was best to keep this from getting out until it was actually verified.
A few months passed and the game wasn't found. John and I began to doubt that this was real and became less and less hopeful that the game would actually be found. I kept on talking to my new Neo-Geo buddy. And day after day he insisted that he would find it.♥
So I get an email from him one day saying he was headed down to his storage unit to look around again. And that if he didn't find it this time, he probably didn't own it anymore. That is when I thought to myself, ♥I knew this guy was bullshitting me all along. So I get a call from him when he got back, he said that he had located the game.♥
I first saw pictures of this title in late Janurary. I didn't believe it. I knew for sure that this guy had just made the game himself and even asked him about it. He said that wasn't the case and that he had purchased it directly from SNK back in 1995.♥
I said that I wanted to inspect the game with my own eyes, I also asked him how many he had. He said he had found 2 copies and that he thought he may have 1 more. We worked out a deal that would allow me to acquire both of them. I cannot state what the terms were in how I came into ownership of these 2 copies. But he sent me one. When I first looked at it, I thought it was fake. Only because there was no way I could be this lucky in owning the rarest and most expensive game that ever graced the Neo-Geo library. Upon further inspection, I knew that it was real, but needed an expert to see it and make a report on it.♥
That is where John Thacker comes in to play. I shipped him a copy of the game after sending him pictures. He said that it looked real, but until he saw it personally, there was no way to tell for sure. Once he received the game, he immediately called me and said it was 100% real. He couldn't believe it himself, but it was definitely a real title. He did extensive research and scrutinized the game after he gave his initial response. Expect his report very soon.♥
So with confirmation that it was real, I reached out to a collector and told him this exact story. He didn't believe me, but was willing to listen. Once John and I were in agreement that this game was real, I worked out a deal with this person. I actually got back from the Pittsburgh airport not too long ago. That is where we met and made the deal. It sold for more than Kizuna or Ultimate 11. So this is without a doubt, the rarest Neo-Geo home cart to exist.♥
I'm very grateful and excited to bring this long lost title out of its hiding place to share with the Neo-Geo community and the rest of the gaming world.♥
I hope you guys are just as shocked and excited as I am.
There are also a few other surprises that I'm working on with this individual, they will be announced once we're both ready.
In closing, I do have another copy available for sale. This will be sold to a serious party who is interested in owning a piece of history. Terms will be arranged once the offer is accepted. You must understand that acquiring this game will not be cheap. All non-serious offers will be ignored. I'd prefer to keep it in the United States.♥
Thanks for reading and trusting me to bring you this historic find.
- Michael DiCioccio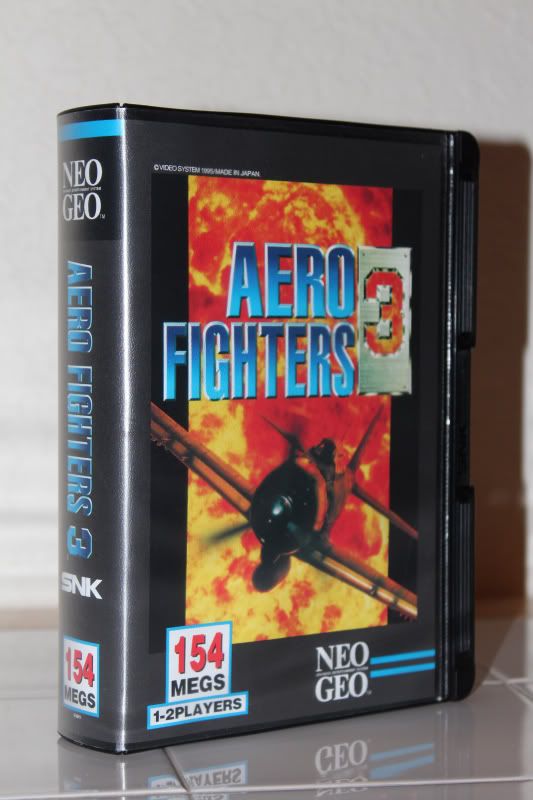 Last edited: