Joined

Aug 14, 2000
Posts

1,766
Hello all!
I've been thinking a lot about putting a subwoofer in my MVS cab lately (really a Dynamo HS-5). It sounds like it would be a neat thing to do. I thought it would be cool to throw it in the back of the cab, behind the coinbox, so the bass would be coming from inside.
I have an old Sony passive sub I had wanted to use, but is it correct to assume the Neo (MV-1) wouldn't be able to drive it? It's 8ohm, and then there's the other issue of combining the stereo channels to input into the sub, which I've heard you can't do w/o potential damage, unless you add a 10k resistor to each channel. Is this correct?
I started assuming that a powered sub would be the what I need, to avoid the channel combining and (ostensibly?) wrong ohms of my passive sub.
Soooo, I started looking at cheap/used subs, and ran across something in the manual of an old Sony I was interested in that gave me serious pause (having memories of what a TV that needs degaussing looks like):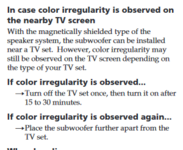 That's when I started to think maybe it wasn't such a good idea at all......
Is there any way to make it work w/o potentially wrecking my beautiful and perfectly functioning WG monitor? Am I worrying too much, or just enough?
Are modern subs (this one was a pretty old one, I think) any less magnetic?
Thanks for any thoughts you have to share!