Rugal's Thug

I've had my Neo Geo AES for over a year and I've been having some problems with the video on my samsung hdtv.
The AES is modified with w/r/b/g/r cables that is supposed to make the console work with modern televisions.
For the most part it does! However, I tend to get strange errors in the video feed when playing.
When playing a side scroller, I tend to get thin black vertical lines across the screen like the image is being stretched too far. I also get horizontal bars that change the brightness of the image depending on where the bars are.
I'll post a picture of it in action if I can, but I would like some advice on what I can do to fix the video.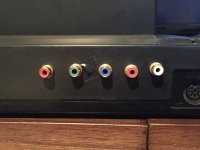 Last edited: