Iori's Flame

20 Year Member
Joined

Jun 15, 2002
Posts

8,248
SOLD SOLD SOLD SOLD SOLD SOLD SOLD SOLD SOLD SOLD SOLD SOLD SOLD SOLD SOLD SOLD SOLD SOLD SOLD SOLD SOLD SOLD SOLD SOLD SOLD SOLD SOLD SOLD SOLD SOLD SOLD SOLD SOLD SOLD SOLD SOLD SOLD SOLD SOLD SOLD SOLD SOLD SOLD SOLD SOLD SOLD SOLD SOLD SOLD SOLD SOLD SOLD SOLD SOLD SOLD SOLD SOLD SOLD SOLD SOLD SOLD SOLD SOLD SOLD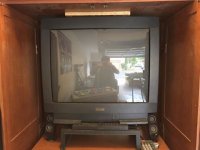 FOR SALE in Sunnyvale CA: Gateway Destination 32" VGA CRT, $50 OBO
LOCAL PICKUP ONLY. Enormous VGA monitor with a TV-like appearance. Can be moved with two people (I can help load it). Has some scratches you likely won't notice, and the control panel door is missing a chunk of plastic so it doesn't flip out smoothly (it still works though). From what I understand it does 640x480 and 800x600 and that's it. I have heard this does not work at 15khz, I can check this myself if it's a concern.
(Optional) You can also have the monitor riser and TV armoire pictured, combine this with something to hold a controller at standing height for a kickass and comfortable arcade-esque setup!
Would be great for anything that does VGA if you want a big and sharp screen, especially if lag is a concern. Dreamcast with VGA box, MAME PC (run 640x480 with scanline filter for a very authentic look), 31khz arcade hardware, ultimate CRT for your DOS game box, things of that nature. Use GPU scaling from a PC or a standalone upscaler and you can run anything from a PC on here really.
Looking for $50 OBO. If you think you have some really cool stuff to trade feel free to offer but I would prefer money.
Only parting with this because I'm getting a cab which will replace the game this was set up for

Last edited: