DANCE DANCE KARNOV!,
20 Year Member
Joined

Jan 18, 2001
Posts

4,229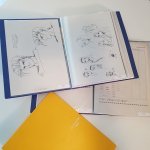 So earlier this year I won a Yahoo.jp auction for about 1k yen. It looked like a pile of copied SamSho art with some flyers. It came in this dirty and rusted folder with all the pages kind of piled together in about 10 plastic sleeves. I transferred everything out of that old folder into the 2 new blue ones.
After going through it I started noticing it really wasn't all copied. Several pages had hand written notes and then I came to a pencil drawing of Haohmaru... Then another, and another...
Then the icing on the cake were these internal SNK planning documents for the game. Time tables, character information, and blank forms.
BUT there is one thing in here that is pretty shocking. A never before seen version of a character in full HAND PAINTED color.
I'll release info on that later this week. I really think people are going to be thinking "WTF!"
I have been posting on Twitter a few of the pics of other stuff. It's just easier for me right now, but here is what I have do so far.
Like I said in the Neo Geo book thread, a few pictures from this folder appear in the book. I'll keep posting pics in this thread. Once I have everything done I'll post a full PDF or something with the entire contents scanned for people to download.