Joined

Aug 22, 2001
Posts

23,651
Figured I'd make a thread in the online section (where it actually belongs, and won't get bumped into oblivion).
There's a big tournament at Blizzcon and I'm interested in seeing what decks are played. There is a picture floating around (probably fake) of a possible Death Knight class in an upcoming expansion (perhaps being announced at Blizzcon):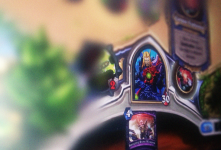 Anybody buying a virtual ticket to the event? I'm probably going to buy one just for the D3, Wow, and Hearthstone extras. $40 is pretty fucking steep, though.
OT: Been playing a lot of druid lately. The amount of burst damage possible is insane (especially if you have two Innervates and a Coin). I really felt sorry for the dude at the end of this match:
Decklist (I think this is a Flood deck):

You guys still active?