I'm currently offering the Mayumi v4 stealth mod-chip for the PS1 console.
The Mayumi v4 is
the
mod-chip to have for PS1 models SCPH-5XXXX and up. The Multi-Mode III and most other stealth mod-chips are simply poorer performing copies of the Mayumi V4 code source. There isn't a chip available that's more stable than the v4. The Mayumi v4 has full compatibility with the entire PS1 library, including games that have anti-piracy and stealth protection software.
Just to further clarify, this chip is designed for PS1 models SCPH-5xxxx and up. If you have an SCPH-1000x, you'll want to grab a Multi-Mode 2 chip for best compatibility. Be warned, regardless of what chip you use for the SCPH-1001, you'll only get partial stealth. In order to achieve full compatibility with all of the anti-piracy/stealth games. You'll need to install a toggle switch to manually power the switch down after boot.
If you want to chip your SCPH-1xxx, I'll have those chips readily available in a week. So check back with me if you're interested.
I program these chips, and solder them to a SOP8 board for easy installation: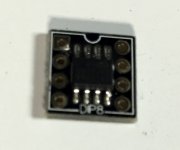 Not only that, each and every one of my chips are thoroughly tested on a shitty test unit that I built specifically for sourcing out any duds or faulty chips.
When you purchase a chip, I will provide a very simple installation diagram, per the model of your PS1 console.
You will never get a bad chip from me:
I'm pricing these at $12 a pop, shipped. USA only.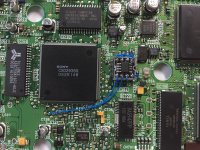 PM me with any questions.
Last edited: