Garou Densetsu • Last Resort OST
Jump to navigation
Jump to search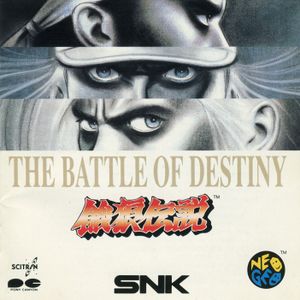 餓狼伝説/ラストリゾート / Fatal Fury / Last Resort
| | |
| --- | --- |
| Catalog Number | PCCB-00087 |
| Release Date | May 21, 1992 |
| Publish Format | Commercial |
| Release Price | 1500 |
| Media Format | CD |
| Classification | Original Soundtrack, Arrangement |
| Label | PONY CANYON, SCITRON |
| Manufacturer | PONY CANYON INC. |
Credits
| | |
| --- | --- |
| Composer | SNK SOUND TEAM (TARKUN, SHIMIZM, TATE-NORIO), KONNY |
| Arranger | Shinsekai Gakkyoku Zatsugidan (SimZM) |
| Performer | NEO SOUND ORCHESTRA (TARKUN, JoJouha-Kitapy, PaPaYa, Tate-Norio), Masanori Kirimura |
| Sound Effects | YOKO |
Tracklist
#
English Title
Japanese Title
Length
01
Garou Densetsu Title [NEO-GEO] ~ Garou Densetsu Title [MVS] ~ Three Heads Are Better than One [Player Select] ~ FIGHT! [Battle Start]
タイトル[NEO・GEO]~餓狼伝説タイトル[MVS]~3人よれば文殊の知恵[プレイヤーセレクト]~FIGHT![対戦スタート]
1:02
02
The Hooligan of Downtown [Duck King's Theme]
下町の暴れんぼう[ダック・キングのテーマ]
3:04
03
Haremar Faith Capoeira School - Song of the Fight (Believers Will Be Saved) [Richard Meyer's Theme]
ハレマー教カポエレ派戦いの歌(信じるものは救われる)[リチャード・マイヤーのテーマ]
2:28
04
The Sea Knows [Michael Max's Theme]
海は知っている[マイケル・マックスのテーマ]
1:48
05
Four Thousand Years of Chinese History [Tung Fu Rue's Theme]
中国四千年の歴史[タン・フー・ルーのテーマ]
3:06
06
Results Are Everything [Battle Results] ~ Suspicious Guy [Midway Demo]
結果が全て[対戦結果]~怪しげな奴[中間デモ]
0:25
07
The King Cobra Is Coming [Hwa Jai's Theme]
キングコブラがやってくる[ホア・ジャイのテーマ]
1:59
08
Brave Raiden [Raiden's Theme]
勇者雷電[ライデンのテーマ]
2:24
09
Let's Begin [Bonus Game Start] ~ Keep Going Until the Ends of Hell [Bonus Game Main BGM] ~ You Are Great! [Bonus Game Victory] ~ A Defeat is a Victory [Bonus Game Defeat]
はじまるぞー[ボーナス・ゲーム スタート]~地獄の果てまで押しまくれ[ボーナス・ゲーム メインBGM]~あんたは偉い![ボーナス・ゲーム 勝ち]~負けるが勝ちよ[ボーナス・ゲーム 負け]
0:42
10
Hit by a Stick If You Walk Along the Bridge [Billy Kane's Theme]
橋を歩けば棒にあたる[ビリー・カーンのテーマ]
2:03
11
Kidnapping [Geese's Subordinates Demo] ~ The Melancholy of Awakening [Geese Appearance Demo]
誘拐[ギース手下デモ]~目覚めの憂鬱[ギース登場デモ]
1:06
12
Kiss for Geese [Geese Howard's Theme]
ギースにキッス[ギース・ハワードのテーマ]
2:22
13
Just a Little Smart Fighting Fellow [2P Battle BGM]
ちょっと小意気な喧嘩野郎[2P対戦用BGM]
2:17
14
In the Shadows of Victory [Victory Demo]
勝利の影に[優勝デモ]
0:29
15
If You Gaze at Reality [Ending]
見つめれば現実[エンディング]
2:08
16
Persistent Spirit I Have [Continue] ~ Beyond Despair [Game Over] ~ Name Your Name [Battle Records Display]
不屈の精神我にあり[コンティニュー]~絶望の彼方に[ゲームオーバー]~名を名乗れ[対戦成績表示]
0:50
17
JACK TO THE METRO
JACK TO THE METRO
6:03
18
LAST RESORT TITLE
LAST RESORT TITLE
0:18
19
JACK TO THE METRO [STAGE 1] ~ VICE [BOSS 1] ~ STAGE CLEAR
JACK TO THE METRO[STAGE1]~VICE[BOSS1]~STAGE CLEAR
5:08
20
THE RUINS OF METRO [STAGE 2] ~ TYRANNICAL [BOSS 2]
THE RUINS OF METRO[STAGE2]~TYRANNICAL[BOSS2]
4:53
21
SONAR [STAGE 3] ~ COLD MACHINE [BOSS 3]
SONAR[STAGE3]~COLD MACHINE[BOSS3]
4:12
22
THE MELTING POINT [STAGE 4] ~ DUSKY [BOSS 4]
THE MELTING POINT[STAGE4]~DUSKY[BOSS4]
5:46
23
DON'T TOUCH ME BABY [STAGE 5-1] ~ FEAR [STAGE 5-2] ~ LEGEND OF KING [BOSS 5]
DON'T TOUCH ME BABY[STAGE5-1]~FEAR[STAGE5-2]~LEGEND OF KING[BOSS5]
5:59
24
THE SUNSET SKY PART II [LAST STAGE CLEAR ~ ENDING]
THE SUNSET SKY PARTII[LAST STAGE CLEAR~ENDING]
2:16
25
CONTINUE ~ GAME OVER ~ FLOWER DANCING [RANKING]
CONTINUE~GAME OVER~FLOWER DANCING[RANKING]
1:18
Disc Length
64:06
Notes
Part of Scitron's G.S.M. 1500 Series (56).
Tracks 1~16 Garou Densetsu ORIGINAL VERSION
Track 17 JACK TO THE METRO (LAST RESORT ARRANGE VERSION)
Tracks 18~25 LAST RESORT ORIGINAL VERSION
Track#13, "Just a Little Smart Fighting Fellow" is an arrangement of Street Smart's first stage theme, which is another SNK fighting game.
Gallery
Links