Whilst Drunk., I Found God., Booze = Bad.,
20 Year Member
Joined

Dec 12, 2003
Posts

6,579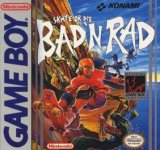 So, i had this when it came out almost 30 years ago [looks at calendar] jesus, ok THIRTY years ago. I even remember when and where I bought it.
I also remember playing it over the course of a 2-week vacation and beating it inside and out.
Recently reacquired it and am attempting to play through it again. 2 weeks later and I can barely get past level 2! What in the actual fuck? My reflexes aren't THAT much slower. This game is infuriating! But I somehow remember playing the shit out of it and loving every minute way back when.
Anyone else have older gameboy games you've gone back to and been shocked at how difficult they seem now?