Lazy SNK Employee

Joined

May 18, 2016
Posts

57
Hi guys
I have made some new shock box covers for the neogeo "161 in 1" I decided to make my own cover as the only cover I can seem to find is the one with "Terry Bogard" on the front of it. But since there isn't alot of fatal fury games actually on the "161" I decided to make a samurai showdown themed one.
I am going to upload them to southtown homebrew so people can use them, just making some small fixes etc.
Please let me know what you think? anygood?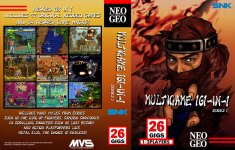 and
Last edited: