Long shot but perhaps someone has an idea.
I have a LG 4K screen here that was bought some time ago on amazon and which I received with the problems I'll state below.
Amazon did send a replacement and never did want the damaged screen back in the first place.
I can just dispose it, but then again I figured why not check if something went loose thats easy to fix. So perhaps anyone with more technical knowledge can give me an idea, I didn't see anything obvious.
The screen turns on, shows an image for a short time (as well as the OSD), then goes black. Pushing the power button again has no visible effect, bringing up the OSD doesn't work - the power still seems to be ok though as the indicator for power is still on.
Googling netted the idea, that it could be the capacitors, when checking the boards (see below) I didn't recognize anything out of the ordinary however.
Does anyone have a clue what I could check to get the thing working again or can confirm after the error behavior that this is some issue that needs expert fixing? (I managed to build a consolized neo-geo that doesn't win any form of beauty contest but works, that should give you a general idea of my own skills)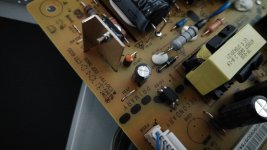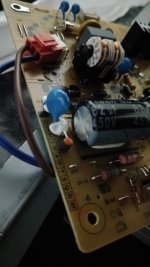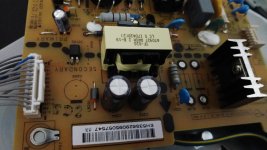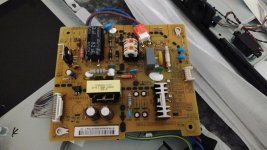 Last edited: