New Challenger

Joined

Jul 6, 2009
Posts

64
EDIT: Updated info below.
OK, so I got a 4 slot cab that has been changed into a 1 slot. All the wires were still in place, so I just bought a 4 slot and want to put it in.
First thing I did was rip the 4 slot's battery out, as was suggested on this forum.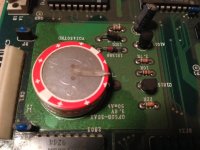 I didn't have a way to de-solder it, so I just ripped it out. I'll get around to installing a button battery later, but for now I was worried about losing the board to a leaky battery so it had to come out ASAP!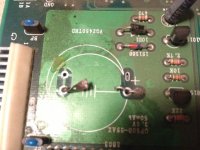 I didn't see any leaking, but it was moist under the battery. The stuff you see on the picture is dust, not fuzz though, at least I don't think it was. It did seem to have a wet area around the battery, but nothing was corroded.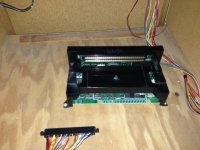 Here is the 1 slot that is in here. Does this have a battery I need to rip out as well? EDIT: It does, but I think I'm just going to sell it and let the next person do with it as they may.
I just plugged this connector into my 4 slot, but is that safe? Do I need to make any changes like to some 5v or something? I guess what I'm asking is, am I ok just doing this swap or should I do something else?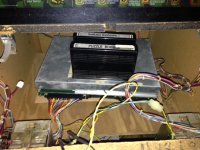 OK, here is the 4 slot just sitting inside on top of the 1 slot. Just wanted to see if it would work.
It did work, but I had a few odd problems. The SERVICE and TEST buttons don't work right. I figured I didn't plug something up that needed it.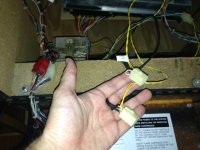 These two seem to run down toward the SERVICE and TEST buttons, but what do they plug into? EDIT: Turns out they are the plugs for the dollar bill machines, one for player one and two. Plugged them both in and they work, although not with the 1 slot.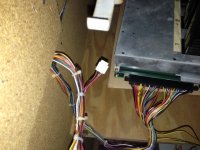 Also, this one is just hanging, what does it go to? EDIT: As someone posted below, it's the plug that runs from the headphone jack in the front of the machine to the 4 slot. I'm missing the extension piece though, so it doesn't reach right now. I'll have to find one online or make one.
So, I'm not sure what is wrong with the two service buttons, but I also see there is a ground plug on the 4 slot board, but I'm not sure what to plug in it.
I also didn't see the cables for the memory card and headphone jacks, but I have one that came with my 4 slot, but I don't see where to plug the ground wires into. I can take a picture if no one understands what I mean by this, but basically there are the plug in ends of the cables for the baord and the memory card PCB, but then there is a separate, green wire that looks like a ground wire. Not sure what to tie this into.
Thanks to everyone who can help.
I also got TWO sets of the digital number screens (one vertical one horizontal) wires to an entire 4 slot set up (minus what I need to get mine fully running) and two memory card boards and an extra marquee light strip. A Metal Slug X full size marquee and bezel sticker (the 4 slot was converted to a MSX).
What I need to finish my system off is a 4 slot marquee and a 4 slot mini-marquee holder (the clear plastic thing that holds the mini-marquees.
I'll probably post on the for sale thread, but if anyone has the above that I need, please let me know!
Last edited: