Hello all,
My name is Tom and I grew up during the arcade heyday then played consoles starting with an Atari 2600 then continued up until the XBOX one. Got a Neo Geo AES home system when it was released and used to call "The Game Lord" Chad Okada desperate for new release updates
.
I used to host Neo-Geo console meets:
http://www.neo-geo.com/forums/index...-in-the-oc-saturday-november-13th-10am.92376/
Then that morphed into arcade meets as I started collecting candy cabs and PCBs:
Hi Guys, Anyone up for some arcade gaming Saturday 27th from 5p til midnight? I'm in Fullerton. Please pm or text me (714) 588-4247 if interested. Thanks :) Droid
Have been on a hiatus since the last one due to work and family commitments.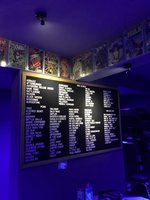 Here is a list of what's in my arcade collection:
Top (4) columns are dedicated cabinets
Lower columns are PCBs and MVS carts are listed on the lower right. Recently re-acquired a Ketsui PCB but not listed.
Have (3) Candy cabs also not listed.
I'm moving forward on the game room and getting ready to host SoCal game meets again if there is interest