Joined

Apr 12, 2003
Posts

17,967
Get ready for some Game Tengoku - The Game Paradise! Here is some info: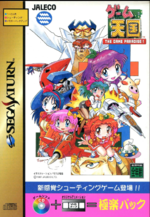 I know there was a remixed version released for the PS4/Switch/Steam but it seems to be the same as the Saturn release if I'm going by this thread on shmups:
https://shmups.system11.org/viewtopic.php?f=2&t=65720
We will have 2 scoreboards: one scoreboard for the PCB/MAME (MISTER?) and one for the Saturn/PS4/Switch/Steam CLASSIC MODE versions and one for ARCADE MODE +.
Good luck to all!
Default settings.
Name-Score-Stage-Character-Platform
PCB/MAME
PORTZ
1. Tarma - 13,784,610 - 2nd loop all clear - Z-Dyne - Saturn
2. Atro - 6,024,580 - 2 (2nd loop) - Z-Dyne - Saturn
3. Dogg - 3,764,640 - 5 - Z-DYNE Mk. II - Sat
4. egg_sanwich - 1,807,940 - 3 - Z-Dyne - Saturn (emulated)
5. roker - 1,734,440 - 3 - Selia - Saturn
6. daskrabs - 1,588,150 - 3 - Selia - Saturn
7. ggallegos1 -1,430,660 - 2 - Selia - PS4
Last edited: