Want to offer this to UK buyers only if possible. Might budge on this later. No trades, if I'm way off on prices then please let me know, I've been away from the scene for some time and completed auctions aren't always that helpful.
CMVS
, MV1C based, aluminium shell, licensed UniBIOS 4 (although this is now free!) installed on a NeoBiosMasta with Virtual Memory Card, 5v PSU, Stereo Sound, RGB circuit to correct video levels to safe levels (and RGB lead supplied),
hardwired DFO mod
to adjust signal to work better with scalers like the OSSC (matches the AES refresh rate signal I think), illuminated power button on front and a reset button on the back), charging circuit disabled and large capacity battery installed in a holder to retain date and high scores.
Couple of more photos
. £250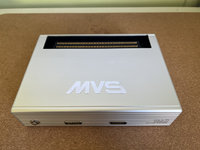 1 or 2 Original
Neo Geo CD clicky joypads
, all directions working can be added to the CMVS above for £50 for 1, both for £80. If the CMVS sells without the joypads then I'll sell separately.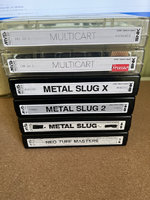 161 in 1 Multicart
, with
Sound and Stability Fixes
, transplanted into an original cart case. Works with
PICKnMIX on UniBIOS 4
. £75
138 in 1 Multicart
, again with
Sound and Stability Fixes
, transplanted into an original cart case.
Dipswitch mod
performed to remove the necessary JAMMA board, A5 booklet with dip switch codes supplied (and electronic copies should you want a backup). £75
Metal Slug X
, obvious repro label but original cart and boards. £70
Metal Slug 2
,
Turbo patched P1 ROM
chip installed to help reduce slowdown, creator of the patch doesn't want these sold for profit so consider it a standard MS2 cart (and the original MS2 P1 ROM chip is supplied and can be swapped over easily due to socket install), obvious repro label. £50
Metal Slug
. £50 SOLD
Neo Turf Masters
. £75
Like I said, I could be way off on prices - let me know. If you want to build a bundle - knock yourself out, will help me when it comes to posting it out, talking of which - I need to grab some boxes and packaging for this lot by the way, once I've got that I can post pretty much any day of the week. Hoping to shift this to members of some forums I'm on rather than deal with ebay.
Cheers
Pete