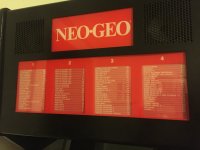 I designed these marquees for my MVS, based on a spreadsheet list I created of the 161-in-1 games with all the duplicates and hacks filtered out.
Definitely makes scanning for something to play and finding what you're looking for a breeze!
These are laminated test cards in the photo, Having them printed on backfilm now!
PSD link:
https://dl.dropboxusercontent.com/u/9424462/Marquee template.psd
161-in-1 Spreadsheet:
https://docs.google.com/spreadsheets/d/12AnbOFRVANUqaF7Xya9s23L-neMrC_buc9AMj4CsB1E/edit?usp=sharing