NEO•GEO Korean Cartridges
Jump to navigation
Jump to search
Although the majority of home carts are engraved with "Made In Japan" on the posterior face, there are some carts with "Made in Korea" on the back of the cart. Physically, the casing is dark grey instead of the normal dark black. Also interesting to note is that all the Made in Korea carts have a US insert, stickers, and instruction book. Dependant of the game, sometimes there are differences between the original games. For instance, in the Made in Korea Samurai Showdown 4 cartridges, there are things missing the game. Things such as a Japanese language mode, voice clips, and include an alternate title. There has been some speculation that this may be due to past animosity between the Japanese culture other Asian cultures, in this case Korean.
Also of note is the Korean Vic-A NEO•GEO consoles with Hangul on the top face.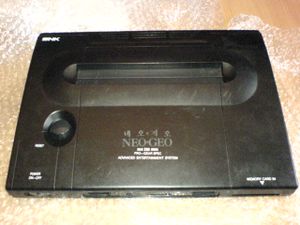 Differences in Korean Games
Samurai Showdown 3

Change of title: Fighters Swords
Samurai Showdown 4

White blood (probably due to being in US mode, which typically lacks blood)
No start up demo
Lack of voice clips for intros, win poses, and announcer
Change of title: Legend of a Warrior
Change of character name: Gaira to Kim Ung Che
Last Blade 1

Change of title: Last Soldier 1
Last Blade 2

Change of title: Last Soldier 2
No Blood
No Start up demo
Lack of voice clips for intros, win poses, and announcer
Real Bout Fatal Fury Special

Lack of voice clips
No blood (set to white), lacks ability to set blood to "ON" in softdips even tho the Blood option is there!
(P1 rom is only difference on the boards)
Korean Games Without Known Differences
Known Korean Home Carts
Fatal Fury 3
Galaxy Fight
King of Fighters 95
King of Fighters 96
King of Fighters 97
Last Soldier ( Last Blade )
Last Soldier 2 ( Last Blade 2 )
Samurai Showdown 4
Savage Reign
Known Korean MVS Carts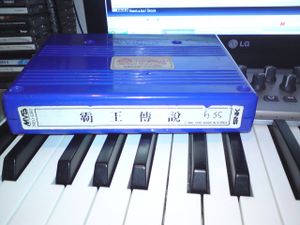 Art of Fighting 3
Breakers
The Last Soldier (The Last Blade)
The Last Soldier 2 (The Last Blade 2)
King of Fighters 97
King of Fighters 98
Money Puzzle Exchanger
Ninja Masters
Real Bout Fatal Fury Special
Real Bout Fatal Fury 2
Samurai Showdown 3 (as Fighters Swords)
Shock Troopers
Waku Waku 7
This FAQ is pretty far away from being completed. Please submit relevant information if you have any knowledge about the subject.

Fellow contributers: joe8, Kunio, Lovergoat, xiao_haozi, MmSadda, ne7, ResO, kitkit.com