ART OF FIGHTING The Definitive Soundtrack
Jump to navigation
Jump to search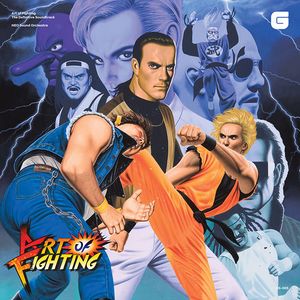 | | |
| --- | --- |
| Catalog Number | GS-005 |
| Release Date | Nov 10, 2017 |
| Publish Format | Commercial |
| Release Price | 12.00 |
| Media Format | CD |
| Classification | Original Soundtrack |
| Label | Generation Series |
| Publisher | Brave Wave Productions |
Credits
| | |
| --- | --- |
| Composer | NEO SOUND ORCHESTRA |
| Mastering Engineer | Dan Suter |
Tracklist
| | | |
| --- | --- | --- |
| # | English Title | Length |
| 01 | Theme of the Dragon and Tiger (Title) | 0:40 |
| 02 | Thanks for the 200 yen (Intrusion) | 0:05 |
| 03 | Which One Do You Want? I Want This One (Player Select) | 0:42 |
| 04 | Welcome to the Todo Mansion (Before Ryuhaku Todoh Stage) | 0:44 |
| 05 | ART OF FIGHT (Ryuhaku Todoh Stage) | 2:44 |
| 06 | Ah, I Want to Return to Japan (After Ryuhaku Todoh Stage) | 0:33 |
| 07 | Wait, Yuri! (Interrim Demo) | 1:24 |
| 08 | Mamemamemaame (Jack Turner Stage) | 2:09 |
| 09 | Delinquents Do Have Honor Too (After Jack Turner Stage) | 0:30 |
| 10 | Chinese Old Man (Lee Pai Long Stage) | 1:20 |
| 11 | Defeated by Age, As I Thought (After Lee Pai Long Stage) | 0:31 |
| 12 | Micha iya! (King Stage) | 1:43 |
| 13 | I Want to Return to a Normal Life (After King Stage) | 0:27 |
| 14 | Bonus Game (Bonus Game Select) | 0:41 |
| 15 | Initiation to the Super Special Moves (Bonus Game) | 0:42 |
| 16 | Strike! Strike! (Bonus Game Results) | 0:12 |
| 17 | Welcome to Downtown (Before Mickey Rogers Stage) | 0:39 |
| 18 | Being Tough Feels Good (Mickey Rogers Stage) | 2:28 |
| 19 | Being Tough Was Good (After Mickey Rogers Stage) | 0:42 |
| 20 | Flying Baaang! (John Crawley Stage) | 2:01 |
| 21 | Flying Booom!! (After John Crawley Stage) | 0:40 |
| 22 | Blue Moon Factory (Mr.BIG Stage) | 1:54 |
| 23 | Fight Uninjured (After Mr.BIG Stage) | 0:45 |
| 24 | Wait a Moment (Before Mr.Karate Stage) | 0:52 |
| 25 | The Tengu Show (Mr.Karate Stage) | 2:08 |
| 26 | I Can't Do It (After being defeated by Mr.Karate) | 0:43 |
| 27 | Is That Our Kid? (Staff Roll) | 0:58 |
| 28 | Hey, Let's Do It Again! (Continue) | 0:17 |
| | Disc Length | 29:14 |
Notes
"ART OF FIGHTING was originally released for the NEOGEO in 1992. Serving as a prequel to SNK's Fatal Fury fighting game series, the game featured beautiful sprites and unparalleled animation, coupled with a catchy, memorable soundtrack and a cast of iconic characters. To celebrate the 25th anniversary of the series, the music of Art of Fighting has been restored at the highest possible quality for a new generation of fighting game fans to enjoy."
ART OF FIGHTING MUSIC COMPOSITION AND ARRANGEMENT
SNK CORPORATION
Yasuyuki Oda
Adam Laatz
Laurent Vernezy
Josh Weatherford
Santiago Schueri
ALBUM PLANNING, DESIGN AND MASTERING
BRAVE WAVE PRODUCTIONS
Alexander Aniel (Project Manager and Executive Producer)
Mohammed Taher (Creative Director)
Marco Guardia (Audio Consultant)
Dan Suter (Mastering Engineer)
Ben Sifel (Designer)
Cory Schmitz (Generation Series Designer)
Copyright SNK CORPORATION ALL RIGHTS RESERVED.
Licensed for use by Brave Wave Productions.