ART OF FIGHTING Ryuuko no Ken Gaiden Arrange Sound Trax OST
Jump to navigation
Jump to search
ART OF FIGHTING 龍虎の拳 外伝 アレンジ サウンド トラックス / Art of Fighting 3: The Path of the Warrior ARRANGE SOUND TRAX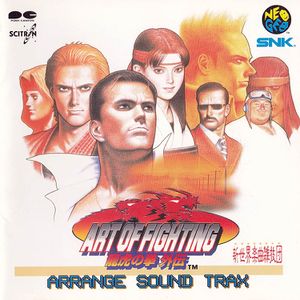 | | |
| --- | --- |
| Catalog Number | PCCB-00213 |
| Release Date | May 02, 1996 |
| Publish Format | Commercial |
| Release Price | 2500 |
| Media Format | CD |
| Classification | Arrangement, Drama |
| Label | PONY CANYON, SCITRON |
| Manufacturer | PONY CANYON INC. |
Credits
| | |
| --- | --- |
| Composer | Shinsekai Gakkyoku Zatsugidan |
| Arranger | Shinsekai Gakkyoku Zatsugidan, Ken Morimura |
| Voice Cast | Masaki Usui, Mantaroh Koichi, Kaori Horie |
| Keyboards | Ken Morimura |
| Guitar | Jun Kajiwara, Natsuki Kido |
| Bass | Tetsuo Sakurai |
| Drums | Akira Jinbo |
| Piano | Ken Morimura |
| Sax | Osamu Koike, Yasuhiro Matsuda |
| Trumpet | Eric Miyashiro |
| Percussions | Calros Kanno, Michiaki Tanaka |
| Recording Engineer | Hirofumi Sako |
| Assistant Engineer | Masahiko Konno, Hideyuki Hanaki, Yoshiaki Ohnishi |
| Recording Studio | Sonata Club |
| Mastering Engineer | Kazuya Satoh |
| Script | Ema Sue (SNK) |
| Inner Script Writer | Koji Ishiaki (WAVE co. Ltd) |
| Graphic Designer | Kyoko Komuro |
| Editor | Hironari Tatsumi |
| Director | Sadakichi. A, Kazuhiko Endoh, Yoshihisa Shirakawa |
| Producer | Yoshihiro Ohno |
| Executive Producer | Kazusuke Obi |
| Special Thanks | Takashi Kaga (SNK), Akio Nakamura (SNK), Toshiyuki Nakai (SNK), Jun Takagi, Kenji Sakai, Naoki Yamanaka, Ken Oikawa, Eisuke Kodama, Neo Geo Freak |
Tracklist
#
English Title
Japanese Title
Length
01
Opening Scene 1-1
Opening Scene 1-1
1:03
02
Back Fight Again (Theme Of Art of Fighting)
Back Fight Again (Theme Of Art of Fighting)
0:21
03
Opening Scene 1-2
Opening Scene 1-2
0:56
04
Get High (Rare Groove Mix) - Ryo's Theme 2-2
Get High (Rare Groove Mix) リョウのテーマ2-2
4:39
05
Scene 2
Scene 2
1:34
06
MOJO (Boogie) - Robert's Theme 2
MOJO (Boogie) ロバートのテーマ2
4:28
07
Get High (B-Mix) - Ryo's Theme 2-1
Get High (B-Mix) リョウのテーマ2-1
3:24
08
Scene 3
Scene 3
1:22
09
MOJO (Ramble) - Robert's Theme 3
MOJO (Ramble) ロバートのテーマ3
3:39
10
MOJO - Robert's Theme 1
MOJO ロバートのテーマ1
4:02
11
Get High - Ryo's Theme 1
Get High リョウのテーマ1
3:47
12
Scene 4
Scene 4
1:22
13
Get High (Goa Trance) - Ryo's Theme 3
Get High (Goa Trance) リョウのテーマ3
3:39
14
Scene 5
Scene 5
1:34
15
Stone In SANTANA - Bar
Stone In SANTANA バー
4:36
16
MUZIKA JUNGLE (edition2) - Wyler's Theme 2
MUZIKA JUNGLE (edition2) ワイラーのテーマ2
4:40
17
MUZIKA JUNGLE (edition1) - Wyler's Theme 1
MUZIKA JUNGLE (edition1) ワイラーのテーマ1
3:57
18
Scene 6
Scene 6
1:48
19
ENDING (LIBERATION HALLUCINATION) - Ending
ENDING (LIBERATION HALLUCINATION) エンディング
5:00
Disc Length
55:51
Notes
Tracks 1, 3, 5, 8, 12, 14, and 18 are drama tracks.
The rest are instrumental arranges.
Arranged by Ken Morimura (4, 6, 9-11, 15-17), Shinsekai Gakkyoku Zatsugidan (2, 7, 13, 19)
Drama Script by Ema Sue (SNK)
Drama Directed by Yoshihisa Shirakawa
Drama Edited by Hironari Tatsumi
Drama Cast: Masaki Usui, Mantaroh Koichi, Kaori Horie
This game is known outside Japan as "Art of Fighting 3: Path of the Warrior". In Japan, the name Ryuuko no Ken Gaiden was given to the game because it has a story that doesn't relate directly to the original AOF series. "Gai" means outside; and "den" means tale, legend.
Gallery
Links