All carts are original.All tested and working.No bootlegs.
Alpha Mission 2-110$ (Sold)
Sengoku-100$
Super Sidekicks 2-20$ (Sold)
NAM-1975-100$ (Sold)
Crossed Swords-110$ (Sold)
Puzzled-50$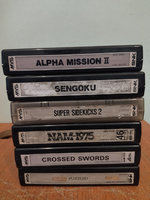 Work with PayPal.
Delivery is 18$ for 1 or 2 carts.
Delivery for three carts 20$
Delivery for 4 carts-free
All prices are in US$.
Can reduce the price for more than 3 carts
Everything will be pack safety.
Last edited: