Edo Express Delivery Guy

Joined

Sep 16, 2015
Posts

331
I'm trying to fix a MV1F for fluxcore.
The battery has leaked and eaten some traces.
fluxcore has already found 3 broken traces and fixed them but that didn't help.
The screen is a complete garbage but doesn't flicker. The color change each time you power the board.
I've found 2 other broken traces and I can see a little progress: the garbage screen is still here but now I've got this message: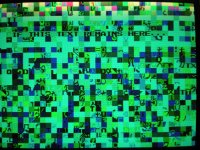 The board has a diagnostic BIOS.
Any idea?