formerly DZ
15 Year Member
Joined

Mar 8, 2006
Posts

4,700
Going to be using this thread to sell off the remainder of my console games and systems. I will be slowly adding things so check back. Prices don't include shipping and payment is via PayPal Friends and Family only (for tax purposes).
For Sale

DSi LL
with Twilight Installed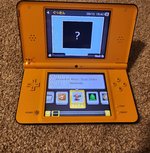 This is a Japanese DSi LL. The system itself is in good safe. It have a few dings on the outside but the inside is in amazing condition. Includes charger. This system has had Twilight Installed on it so it can run homebrew as well as GBA and DS roms off the SDcard. System will come with a 32gb SD installed. $70 Moved off site
Japanese GameCube System with Games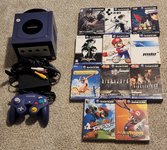 System is in good shape. Maybe a ting of yellowing on the gray and has a small chip missing from it as well. Comes complete with controller and cables. Is missing the port covers but does come with a Memory Card 251. System also includes the selection of games seen below. Games are complete unless noted. They were mostly purchased from YAJ so their condition varies from game to game. Shikigami was the last used title I picked up from a memeber here and it's in really nice shape. Loosing a ton of money on this but I just want the space back.
Biohazard 4
PN 03
Shikigami no Shiro II
Soul Calibur II
Mario Sluggers
1080 Silverstorm
Beach Spikers
Biohazard
Biohazard Zero
Mario Golf (No Manual)
Mario Tennis (No Manual)
$170 moved off site
Sold
Moved Off-Site
Last edited: