Got some stuff for sale after doing some condition upgrades. Prices are shipped within the US, international let me know for shipping quotes. Feel free to make me offers if you think prices are too high, open to trades as well. Can send board pics and accept many forms of payment.
Strikers 1945 Plus Full Kit
non-matching serials but has all inserts, holo label everything in pretty good condition - $330 obo
***SOLD***KOF 96
japanese label but really beat up, have a repro english label that I haven't applied I can throw in. There are official SNK repaired roms on the boards, check MVS scans for sets 2 and 5 to see this type of repair - $45 obo
KOF 2001
english label but has audio glitch. some of the pins are corroded but the only thing I think is affected is the announcer voice. Game plays fine otherwise - $30 obo
KOF 2002
green cart with beat up label - $90 obo, looking for a pink cart, willing to trade for that if you have one.
Master of Syougi
beat up label but have a repro label I can provide with it - $50 obo
Neo Bomberman
Japanese label that's split at the crease, had a rom repair done by Shadowkn. Has photocopy art. Selling for what I paid, $125 obo
MVS Shockbox Boxes
I have 5 of these and while I like them they take up too much space on my shelf. Because of how bulky they are to ship I'd rather ship them all at once - $45 obo
Not sure if this is allowed in here because it's PS4 but I have the KOF 97 Limited Run collector's shock box version. - $80 obo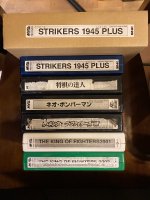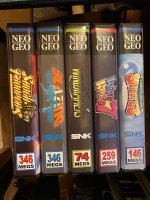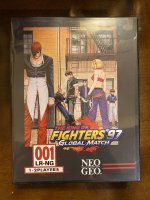 Last edited: