Krauser's Henchman

Joined

Sep 14, 2018
Posts

941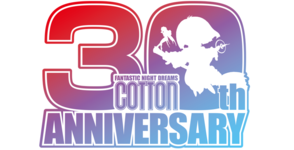 SLG said:

As we do know that you yearn for shoot 'em ups the same way as our fav witch Nata de Cotton craves for willows - we've got some really good news for you, dear physical video game enthusiast!

Together with our close friends at SUCCESS Corp., we are ecstatic to announce that the Strictly Limited line-up of games will receive not one... not two... but four shoot 'em ups in the beloved COTTON series!

Cotton 100%
Panorama Cotton
Cotton 2
Cotton Boomerang

But wait - that's not all! Besides these four classic cute 'em up titles, we'll also offer the SUCCESS sci-fi shooter GUARDIAN FORCE as an inclusion to the SATURN TRIBUTE collection, which will also be the home of Cotton 2 and Cotton Boomerang...

All of the games will soon be available for pre-order, so make sure to keep up with our social media channels for more information on these upcoming Strictly Limited physical editions.

Oh... and we almost forgot to mention! In celebration of Cotton's 30th birthday, stay tuned for a very special announcement later this year!

The hype is real.