by Sifl
| | |
| --- | --- |
| US Title: | Blazing Star |
| Japanese Title: | Blazing Star |
| By: | Yumekobo |
| Year: | 1998 |
| Size: | 346 Megs |
| Home Release? | Yes |
| MVS Release? | Yes |
| CD Release? | No |
Graphics: 10
Music: 9
Gameplay: 10
Replay: 10
Metal Slug with Spaceships.
How else can I describe it? What Blazing Star did for shooters is like what Metal Slug did for run and gun, IMO, it is an absolute beauty. Let's get down to the nitty-gritty.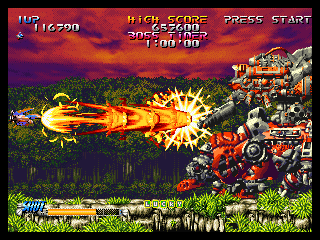 Graphics-Where do I start? From the exquisite intro with CG-rendered ships and their Anime-style pilots, and a fetus in space (reminiscent of a Stanley Kubrick flick no one can understand.), to some of the best backgrounds I've ever seen in any game, Next-Gen systems included. The Innards of Space Stations are all well done. The segment in Stage 6 with the background moving towards you must be seen to believed. Few Neo games can match Blazing Star in this department. For that, And for the fact that it looks better than many of the Dreamcast shooters, I'll give it a 10.
Music-Every track a masterpiece, Soothing yet invigorating. The technoish sound fits the game well on the outer space levels and the Earth stages have a more relaxing tone to them. The Boss music screams "Prepare to smash the A-button until you recieve blisters" Music gets a 9.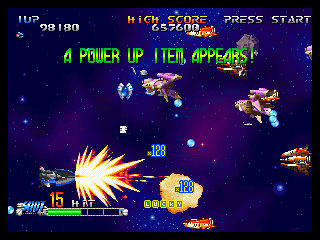 Gameplay-pure unadulterated gaming bliss, control is tight an responsive just as you would expect from any Neo-Geo game worth it's salt. Six ships with different speeds and abilities are at your disposal, and trust me, you will dispose of a lot of them. This game, while not as difficult as it's predecessor Pulstar, will still require icewater in your veins. As stated earlier, imagine Metal Slug with spaceships.
Therefore, if MS is a 10 in gameplay, BS is a 10 as well.
Replay-Again, like MS you can finish the game over and over again and you're still coming back for more. This is the mark of a true work of art. Replay is a 10 and I'll give it an extra point for the most important category being in the same league with Slug.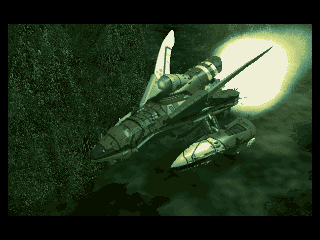 Nice Touches-I like the demo that replays your last game as the high scores and statistics roll by. You can even write your name vice initials on the high score list, which is a plus for those who own this on MVS. The final boss is insane, must've been Satan as an infant.
Final thoughts-Yumekobo has spoiled me, I haven't had this much fun with a shooter since Galactic Attack and Strikers 1945. Precious few Neo-Geo titles are must-haves, this is one of them. Unfortunately, just like the original Metal Slug, this one is rare on Homecart and prohibitively expensive for many gamers, so MVS or conversion is the way to go for the gamer on a budget to get his piece of video game goodness. Sorry CD owners, this game would only cause a meltdown on your system. And for everyone who is enlightened, if you love this game,yell "BONUS!"
----------------------------------------------
More Reviews of This Game:
by Kazuya_UK - Courtesy of Kazuya's
Forums | Neo Collection | Master List | AES Price Guide | MVS Price Guide
CD Price Guide | Neo Store | Screenshots | Reviews | Home | Email