Joined

Mar 21, 2014
Posts

1,387
There are a bunch of different reasons why one might enjoy specific levels of a game.
While backgrounds in fighting games have been discussed a lot (and rightly so) I'd be interested in your opinons on what makes a specific level in a specific game great.
I'll start off with a well beloved classic:
Castlevania Bloodlines Level 2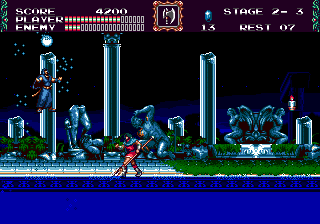 There are a ton of levels who chase you with different hazards (fire, water, giant spikes), most of the time for no specific reason. (if you are lucky it's something like "there is wildfire in the woods of MegaMan Land")
Not in Bloodlines. The Atlantis stage boss has a plan and the means to deliver it - he's going to friggin drown you with a water spell.
I enjoy the love for detail here.