, Grandmaster Elf , Overlord (GEO), , snkusa.com
Joined

Aug 11, 2000
Posts

2,500
Awesome!

2MB photo limit will work

It was really hard to get decent photos on the album page at <100 kb each.

Btw, can you update the album pict size to 2MB too?

And, is it possible to update the "Collections/NEO·GEO.COM COLLECTION GALLERY"?

I liked it... easy to find a username alphabetically, and click to see the images.

When I first joined neo-geo.com, I was in awe at some of the collections I had seen...

Gotta take some new hi-res photos with my GH2
Album settings are as follows: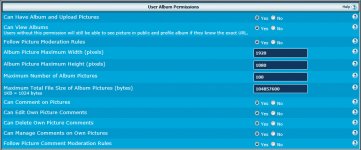 Let's leave the outdated collection gallery that's hosted on the main site intact (historical collection time machine for reference), but will provide updated link to new Collection Gallery forum in near future from main site.
Most of us are really looking forward to seeing your latest collection + home theater pics and your GH2 should do it justice. I'll probably use one of your pics for the Collection Gallery forum banner if that's allright with you.