Timid Neo Newbie

Joined

Jun 10, 2021
Posts

5
Hello! I'm new to these forums and to Neo Geo Development. A good friend of mine who is a huge Neo Geo enthusiast was telling me all about the system. Until that point I didn't know much about the Neo Geo, I first heard about it when its games were ported to the Wii in the late 2000s. Not being a huge fan of tournament fighters (I like them more now but I'm still bad at them) I mostly wrote the system off as "just a bunch of fighting games" and hadn't actually given them a proper look. My opinion has most definitely changed, however, as I've played games like Super Spy and Magician Lord and was very impressed with the graphics. They were quite incredible for their time and still hold up today.
Anyhow, recently I got on the retro game development train thanks to NESMaker and was trying to make an NES game. Progress was decent and I'm pretty well-versed in 6502 but I was (and still am) eternally frustrated by the difficulty in coding for the system. After trying out the NEOGEO for a bit, and getting over the initial difficulty in creating XML and C1/C2 files, I find the system much easier to work with, in spite of its less robust development tools. So for the time being I'm taking a break from the NES and want to work on the NEOGEO for now. I'd like to share a mini-project that I'm quite proud of (I don't know any C, this was all done with assembly.)
I'm trying to make a ninja game for the Neo Geo so I thought it would be cool if the intro cutscene had a letter written in traditional Japanese style (writing top to bottom, right to left.) The NEOGEO has a built-in Japanese font that makes this pretty easy.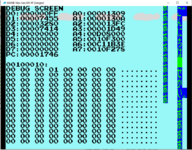 The source code for this looks like absolute spaghetti, it's difficult to follow and I plan on cleaning that up. I'm sure there are improvements to the structure that I could make. I was going to post it below but the formatting is all wrong and nothing is on its own line

Edit: It actually works fine when pasting directly from Notepad++ rather than another forum. Go figure. Source code is below, please give me credit if you use it.

Edit 2: I used a few macros of my own creation, I'll list what they are below:
pushall = movem.l d0-d7/a0-a6,-(sp)
popall = movem.l (sp)+,d0-d7/a0-a6
ClearDataRegs = CLR.L D0 CLR.L D1 CLR.L D2 CLR.L D3 CLR.L D4 CLR.L D5 CLR.L D6 CLR.L D7
Last edited: