J. Max's Chauffeur,
20 Year Member
Joined

Jul 9, 2001
Posts

2,760
We are at the dawn of a new age, the age of Cyberball 2022 and human players have been eliminated. What are some other pop culture days of future pasts that have not come to be?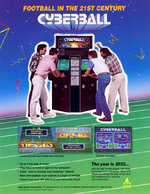 When I was young I remember in the Buck Rogers intro in 1987 America launched it last space probe before everything went to hell, kind of scared me about the upcoming future when I was 5 years old.
We also have already reached the time of futuristic Outrun cars.