Buriki-One Fight Promoter

Joined

Dec 14, 2005
Posts

4,021
Did some cleaning over the weekend so here is a random assortment of things for sale.
Prices include shipping in the US. Paypal GIFT or Venmo only.
GTX 1080 Founders Edition 8gb $375 shipped SOLD
Works great with no issues, simply upgraded my card.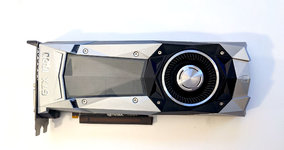 Thanks for looking!
SOLD ITEMS BELOW:


Densha De Go! N64 Controller $40 shipped
In fantastic condition with original sun faded box. Important to note there is an English patched rom for Densha 64 so this is a great way to learn the game if you can't read/speak moon runes.

VCT 500W Step Up / Down Converter $35 shipped
Converts USA AC 110/120V to Japan AC 100V Great to have if you are using older computers or electronics from Japan. Some people run their cabs off of these. For instance, the Wei-Ya PSU in the Vewlix is known to be finicky if the cab is plugged directly into 110/120.
Hori Playstation "Fighting Commander 2 Way" $25 shipped
Great condition with original box. Box is a little worn on parts.
Last edited: