SOLD
Sale Stuff:
$130 (includes shipping to US only). Dock is included with all hookups. Has all the boxes, yadda yadda.
Console screen is busted beyond repair, BUT the console works perfectly when hooked up to the dock (the Dock will work with just about any Bluetooth controller, even a PS4 controller)
If you aren't concerned about portable play, it will work just fine for you. I got it mainly for the portability and now it's less than useful in that department.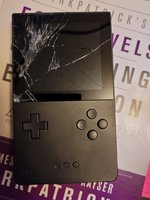 Storytime:
At the end of January, after having the Pocket for a little over a month, I removed the PORTABLE console from my pocket and dropped it on my hardwood floor (about 3 feet). The screen is COMPLETELY shattered. Emailed Analogue about a replacement "gorilla" (HAHA) glass screen. They said they would get back to me shortly. Sent a follow-up two weeks later and they told me to continue to wait. It's now been over a month and they aren't doing a damn thing about it. I even said I'd be happy to pay for a replacement screen and their services, and they still won't get back to me. I'm just over looking at the fucking thing.
I'm a 40 year old gamer who has always taken immaculate care of my collection. But over the years I've dropped plenty of portable consoles. They are handhelds, it fucking happens, and should be expected no matter who is using the damn thing regardless of age and built into the design of the product. Because the screen sits OUTSIDE of the casing, even if you have a "screen protector" it still will shatter. In all the years I've owned a smart phone, and the numerous times I've dropped them, I've never so much had a scratch on the screen. One tiny drop and the screen was toast. The durability on the rest of the units it fine.
This is just one year later from when my Analogue NT Mini bricked itself completely. They replaced the unit, but a few months later the NES cart ports stopped working entirely and only the Famicom port worked.
Anyway, let me know if you have any questions. I'll move the sale to Ebay or elsewhere if it doesn't move here in a week or so.
Last edited: