Krauser's Shoe Shiner

Joined

Apr 1, 2014
Posts

232
Hi guys,
I really hope some of the knowledgeable folks in this great community can help me out please. I have had my SNES Mini for a couple of years with a standard 3 wire RGB mod, I have also been using it with my XRGB Mini for around 18 months. I always had some minor noise/chequer-boarding on solid colours which seemed off since it is a SNES Mini console with supposedly the best RGB image of any SNES console (once modded). I decided recently that I have put up with this issue for long enough and wanted a cleaner image, not being too great with a soldering iron and lacking the free time I sent my console away to have the old mod removed and have the new THS7314 AMP PCB installed with C-Sync hooked up.
I received my console back and whilst the image is vastly improve with zero noticeable noise present I now have a new problem that was not present before. Many games now have issues at the bottom of the image or in the overscan area on the right side of the screen, worse still Mega Man X now has an ugly green bar at the bottom of the inventory screen. I never had these issue before but the modder says its normal for a SNES Mini/1CHIP SNES. I think I would have noticed these issues in the past 18 months, especially as the SNES is my most frequently used retro system next to my cvms. Equally I can't find any other reports of these issues on the net and many rave about the SNES Mini coupled with an RGB mod and XRGB Mini.
None of my other systems have this problem so my xrgb is fine, I have also tried different settings, different scart cables and power supplies to no avail. Strangely some games appear ok (Rockman X2, Street Fighter Zero 2, DKC2) at least during a brief test but others display a faint white bar at the bottom in different places or white glitches on the lower right of the screen. This is really distracting and annoying when playing these games now. I have tried the SNES Mini directly with a TV and the issue remains although it is not as bad, I presume this is due to a TVs low pass filter being applied (LCD UK TV with RGB SCART IN) as when I enable the "standard" picture setting on the XRGB which appies a low pass filter it hides the problem in most games (but causes other issues so not a fix).
Either the AMP/THS chip is faulty or my SNES is going bad, I wanted to get some more advice before responding to the modding service I used.
Please see the below screens for an idea and let me know if you have the same issue with an RGB capable snes mini and xrgb.
(All carts are original)
Intro of Chromo Trigger:
Mega Man X - The title screen has a white line at lower part of the screen: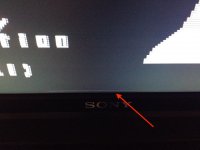 Star Fox glitches on the right side of the screen (I turned the brightness up to highlight the issue more but its always there regardless and noticeable with the correct brightness level:
Zelda Into has a faint white line in the middle of the screen: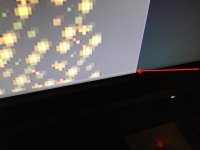 Ultimate Mortal Combat 3: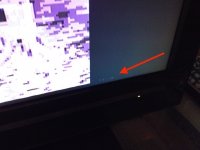 Last edited: