Mai's Tabloid Photographer

Joined

Nov 11, 2004
Posts

2,126
SOLD!
..sorry, I can't edit the thread title.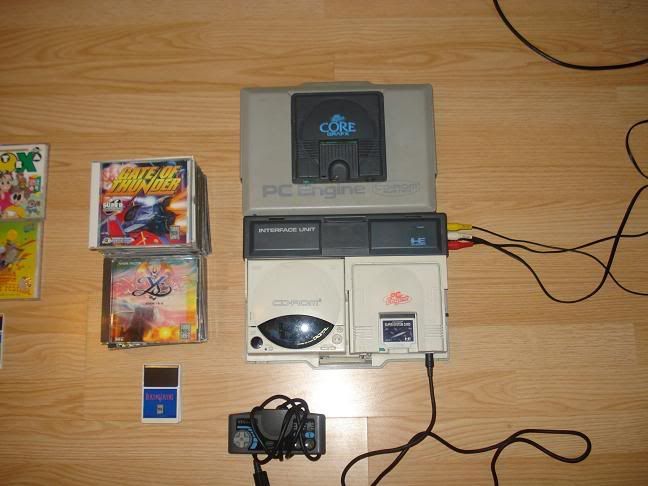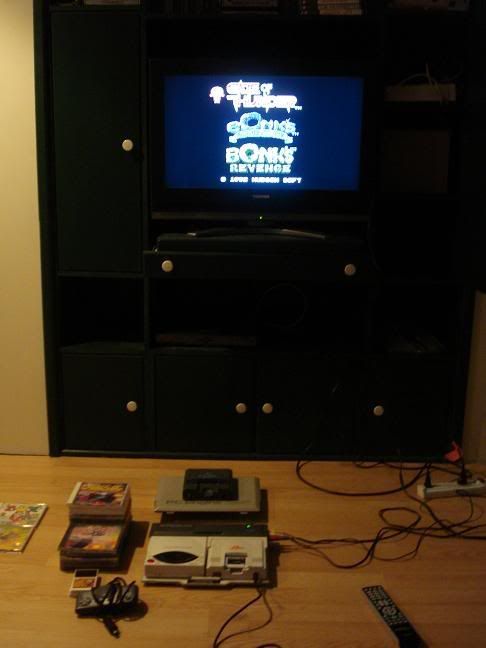 Well, this thing is collecting dust here. I'd like to give someone a much better price than I paid for this small collection.
-The term "complete" here denotes case, manual and game. I don't know if any of these games would have had spinecards etc, but none of them have them now. Again, though, I'm not sure if they would have had them in the first place. Just a heads up for the purists.
All the following is included:

-1x PCE(White, original style) with region mod.
Flips between US/JP region with the flick of a switch. Much easier than one of those card adaptors.
-
1x CD "briefcase style" add on
. This is region free...you can play both US/JP CD games. The only caveat is that while this thing works like a charm, most of the time, sometimes you have to wiggle it a bit on its briefcase connector to get proper power. The "equivalent" of blowing on a NES cart, I guess, but no blowing involved

-
1x System Card version 3.0.

-
3x Controllers
(1x 3 button NEC Avenue controller, 2x regular 2-button ones).
(consider the next item a free add in, because it has some cosmetic damage)
-
1x PCE(CoreGraphx model) with some burn damage
. Not sure what the hell the previous owner did with it, but it works fine. Just looks ugly is all. I basically bought the white one listed above to replace it...you can have it as a free backup.
-
1x NEC power supply and some generic AV hookups
.
Hucard Games loose
(asterisk denotes JP version)
Bonk's Adventure *
Final Soldier*
Ninja Spirit*
Legendary Axe*
Legend of Valkyrie*
Mr Heli*
Blazing Lazers
Keith Courage
Hucard games complete
(asterisk denotes JP version)
Alien Crush
Devil's Crush
Bomber Man(cracked jewel case, good to go otherwise)
Drop Off(this game sucks...you can use it as a coaster)
Formation Soccer on J League*
F1 Circus '91*
F1 Circus*
Cyber Knight*
Tennokoe Bank*(not a game...it's a memory card of sorts for backing up game saves.)
CD Games
, all complete.(asterisk denotes JP version)
Gate of Thunder 3in1(GoT, Bonk, Bonk's Revenge...no back insert. This was a pack-in game and did not have originally).
Ys Book 1&2 (a bit of sunfading on the manual)
Super Schwarzschild 2*
Cal II*
Sherlock Homes*
And then, there's this stack of games which I can't translate(but I know one of the discs is a comp with Legend of Heroes and Far East of Eden II, both JP)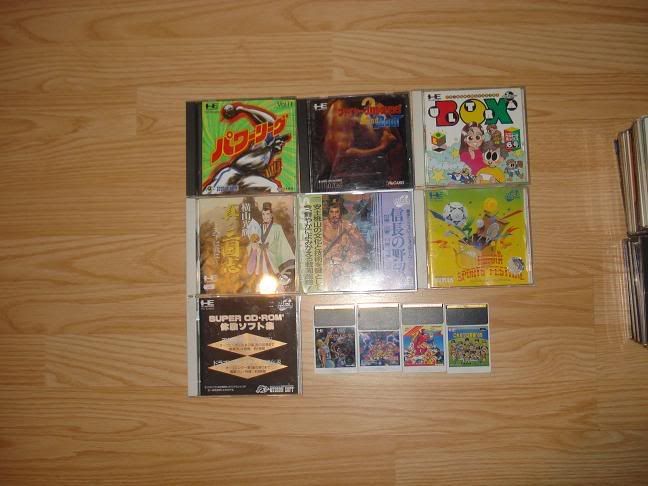 $250 (or best offer) shipped for the lot within North America. Bearing in mind, $50 alone of that price is the shipping, most likely.

Last edited: