Proto Hunter
20 Year Member
Joined

Nov 10, 2001
Posts

908
rom preservation contributions
Hey guys, sorry, I've been very busy lately with a project. I have most of these carts, and the pc to neo device here with me.
Raz, tell me if you need these two carts pictured here that I just ran the CRC on. (it's hard for me to know 100% for sure since I'm still running unibios 3.2 here)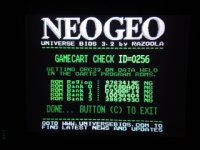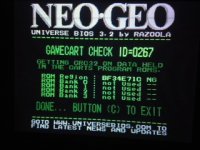 Also, some information for you Raz:
I have here Metal Slug 3 & Garou carts which both have daughtercards, but they both pass the CRC test.
And, the Garou regular cart I have (no daughtercard) passes CRC with the IDENTICAL checksum.
Doesn't this mean that the daughtercard version I have is not encrypted?
And, if so, would that make it useful to be used as a translator for the other encrypted daughtercard?
Last edited: