King's Dry Cleaner

Joined

May 25, 2013
Posts

383
Hi guys, I recently bought a beatdown MV-2 Motherboard off ebay with a Backup-RAM-Error 00D0010 written 5555 read 5540 and desoldered Battery.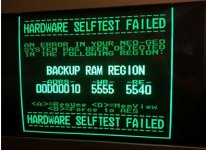 Xian Xi already gave me the advice in another thread, which I really appreciate, but I want to widen the audience, maybe someone of you encountered EXACTLY the same problem I have now. My friend already soldered a bridge without probing if the trace is broken (yeah, don't kill me or him for that). How should we proceed?
My plan is removing the pad from the back, checking for corrosion and probing every trace going from the backup chips to corresponding chips for continuity.
Attached a picture of the board (including soldered bridges) and yeah, we will clean it before checking the traces. And while I am at it: which is the lower backup-RAM of the two chips.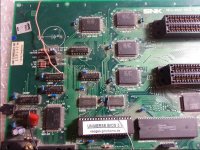 I am thankful for every tip that could guide me to a less painful fixing process, and yeah, I already dived through the forum.
Greets, hugs and kisses!
EDIT: this is not my universe bios, I usually buy it and will buy from Raz

Last edited: