Hi All,
i bought a few of days the my dream console after years to be able to buy it.
When i start the console without the game the screen become blue, so i think that it goes in diagnostic mode and there aren't problems (with your experience, can you confirm this?).
today i riceve Fatal Fury 2 and when i insert the game or not see any signal on TV or there are glitches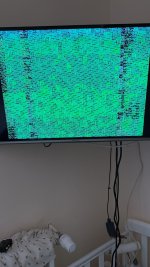 After some tests i clean the contact on the game cartridge that there was dirt and dust but also after the clean the problem remain.
Do you have any idea to understand if the problem is the console or the game?
thanks