Joined

Oct 15, 2005
Posts

1,612
Hey,
I was invited to be the cinematographer on a movie called Macau Stories 3, wich is the sequel to this one here
http://www.youtube.com/watch?v=d2sL8N1jXxM
We shot it last november, its in editing stage now and will premiere in Macau,Hong Kong and Taiwan next October (a time for Halloween, since the theme of this year movie is much darker).
The cool thing about this, is that i manage to include my Neo geo AES in a few scenes, as a prop, in the apartment of one of the main characters.
So we have a few scenes where we have KoF97 on the background and other where we have a character playing Garou Mark of the Wolves!
We also have an intimate scene with a few AES carts scatterd in the background.

i asked the actors, so wich game should i bring?2 of them:"KoF97 please!", i took KoF97 and Mark of the Wolves just for the production value

Heres a pic taken from the editing room.
The movie was shot with red camera @ 4k resolution, this pic looks like shit since its from the offline edit.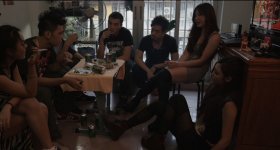 The actors loved the Neo, the guys are KoF fans, they were pleasently surprised to see the Neo at the set. We battled a few rounds in between scenes

I intend to post better pics in the future (maybe around color grading time), and the trailer once its availabe. I wanna thank the director for sending me the pic that i just posted.
ps - Shit i need to edit the threads title, how i do that?
Last edited: