Crazed MVS Addict

Joined

Sep 6, 2017
Posts

142
Hello everyone! Going to post about my Capcom Impress project that I worked on this year while working on my Super Neo 29 that I detailed in another thread. If you haven't seen me spam General Discussion about it you can check it out here.
http://www.neo-geo.com/forums/showt...ong-overdue-Super-Neo-29-restore-project-post
I promise this won't be as long as my Neo 29 restore because there really wasn't as many steps.
So about 5 months into the Super Neo 29 project my homeboy from the now defunct Family Fun Arcade hit me up saying someone had an Impress for sale. He had recently picked up an Astro City shell from the same guy on the cheap and sent me the photos of this poor Impress covered in grime and filth.
After messaging the seller for a bit I meet him at this Recycle Yard in Los Angeles where he shows me the Impress. It had been sitting outside (under a covered area) for a couple of years. Surrounding it was mud and dirt and lots of mechanical parts and junk. This was at the start of lockdowns in LA so it was kind of weird driving through LA while it was empty. The cab was just nasty looking. So dirty. Poor little feller.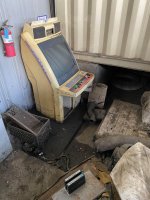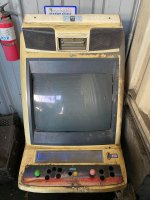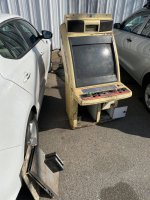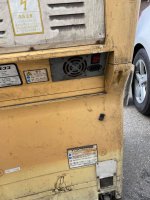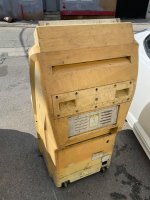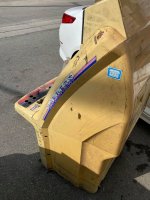 After haggling we got the price down to $100 bucks plus $40 for a 2 slot board with 2 games.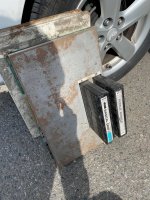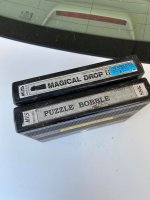 Unfortunately the games were bootlegs and the 2 slot didn't work, still not bad for $40. While not important to the story the 2 carts were sold to become conversions and the 2 slot was fixed.
Luckily the IMPRESS panel was still there. Only thing far as I could tell that was missing was the CAPCOM sticker that sits under the light up IMPRESS panel. I'm sure it is still somewhere in the mud at that recycle yard.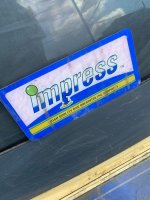 Got my buddy to help me move it down to San Diego. We decided to try and get all the spider webs off the bottom before we left.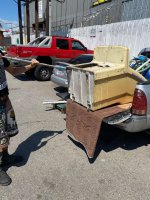 Last edited: