I pulled my MV1F out of storage yesterday and was disappointed to find it worked fine but had no sound. The Unibios can't even start the Jukebox, which seems like it's possibly a Big Clue but I don't know what it suggests. Seems like the whole sound subsystem is offline? IDK.
The damage to the board seems minimal. Some peeling and some scruffy looking traces, but after giving it a scrub and a bath it seems to be fine. I toned out every trace with a multimeter and they all seem to be fine (based on the 40 or so circuits I checked). No shorts, no cuts. That glued-on petrified foam cover on the base is still very much affixed, so I could not check the base of the PCB.
I did a search but couldn't find anything that matched this issue specifically, so my apologies for asking again what is certainly a common question, but:
tl;dr - battery damage, no sound, no jukebox. What does that suggest is the problem?
Thanks for any clues or tips.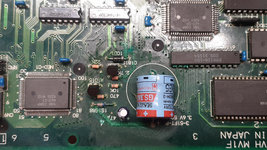 Last edited: