NEANDERTHAL FUCKER,
15 Year Member
Joined

Sep 24, 2003
Posts

10,630
https://www.vice.com/en/article/v7d...anka-founder-of-something-awful-is-dead-at-45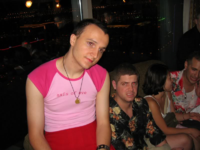 (Second from left.)
Maybe you liked him. Maybe you didn't. Maybe you never heard of him.
I'm not even
sad
to learn of his death, and yet...
(Gesturing vaguely at the internet)
He
built
this place.
You know?