Hey all,
So, I've had my Ikegami HTM-2005r for quite some time now and never really figured out a solution to this issue (if there even is a solution) that I'm having.
Using Chris' supergun, most of my boards have this weird, warping issue at the top of the screen. Funny enough however, my Tetris TGM board does not have this issue (all are connected via RGB) This also happens with my 1-slot Neo Geo board as well.
From what I've read, this might have something to do with sync pulses/sync timings on the Ikegami? I've heard someone had issues with their TG16 running on a similar model as well.
Here's a picture of my CPS3 board with the issue very apparent. The rest of the screen appears fine and no issues with colors, brightness or contrast.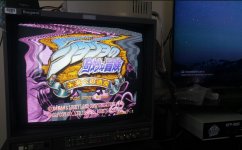 Does anybody have any experience with these monitors/have any ideas? It would be much appreciated
Thanks!