Good Evening.
One day , after not using my cab for a while, heavy sparking was observed on the back of the CRT.
(The sparking was probably caused due to dust and moisture buildup around the HV plug behind the CRT).
The dust was cleaned away, but the image has shrunk on both axis, and the colour had a heavy green tint to it.
After a while (some months), I've turned it on again just to discover that, although the image is still shrunk, the colours are ok again.
But then some popping is heard on the back of the CRT (but the image is still displayed normally during the popping).
Below is a photo of the monitor (sorry for the crappy quality)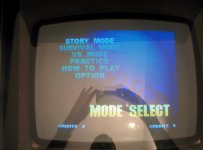 Any ideia on what could it be ?