$250

$200

shipped
Selling this as a bundle, want to get rid of it all. You can even flip it if you want.
I spilled Prosecco all over the Game Boy Micro. It does not power on. I let it dry in rice for 1 1/2 - 2 days before trying to power it on at all. It was working perfectly before this happened. You can probably just open it up and clean it and it will work, not guaranteed though so, are you feeling lucky Punk?
To make it all better, a perfectly working Game Boy Advance SP is included. Nothing wrong with it.
Chargers included for both consoles.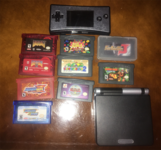 Details on the games:
DOOM & DOOM II:
this is not the normal Doom GBA game, its a modded ROM flashed to a cartridge of a significantly improved Doom port. They are way better than the official Doom for GBA. See more details here:
https://www.romhacking.net/hacks/4899/
. I paid $35 for both carts combined.
Megaman Zero Collection
: another 'bootleg' but a good bang for the buck, includes all the Megaman Zero games. Works great. I paid about $20 iirc.
Megaman & Bass:
see above (its a bootleg) , only it was something more like $5 for the cart. Included for free since its worth nothing.
Super Puzzle Fighter II
: you can't have a portable console without figuring out how to play SuperPuzzle Fighter on it. I would say this loose cart is worth about $30 - $40 if it were to be sold on eBay.
Super Mario Advance 2 (JP)
: Super Mario World
Yu-Gi-Oh The Eternal Duelist Soul:
probably the definitive "golden era" YuGiOh portable game. If you were into YGO when it hit the US, this was a must have, has all the original cards that anyone would remember and also the first game if i'm not mistaken to actually utilize the TCG rules accurately. Past games were either different or simplified.
Donkey Kong Country

Super Robot Wars J English Romhack
: A must-have for RPG and mecha fans really. Weirdly hard to source this cartridge compared to other games translated flashes, but there is a new listing on eBay at the time of this writing for $25 shipped.
I undervalued everything (according to eBay) and included anything under $10 for free with the total calculation. I realize that with the GBM included the price is a little subjective but it seems to me that "junk" GBMs are being sold for over $100
Got a problem, fuck you PM me
Want more pics, fuck you PM me
Want to make a deal fuck you PM me
Last edited: